Emma is 22 months old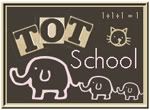 I have been quite the slacker on posting about our Tot School activities since Will was born. Emma is becoming extremely verbose, and can say virtually anything at this point. She volunteers new words daily, which is really exciting for us! She now asks to do many of her favorite activities, coloring, beads, music (especially We are the Dinosaurs and Buzz Buzz).
We took a trip with our play group to the
Air Mobility Command Museum
in Dover. Emma had an amazing time! She loves airplanes and helicopters so much, and did a great job of paying attention and staying with the group while most of the information was for way older kids. I told her that morning we were going to see airplanes and helicopters and that we would take her picture with them, so the whole drive to the museum she kept repeating "Airplane? Copter? Cheese!"
Our tour guide took us in the cockpit of a large cargo plane!
Sitting in the model plane
Emma is very obsessed with vehicles of any kind, especially cars, trucks, buses, and trains. Here's our girly-girl posing with her racecar!
One of our new favorite Tot School activities is sorting. Emma has had a ton of fun with some fall and Thanksgiving shapes. We usually give her 3 bowls and put a different shape in each, along with a pile for her to sort. She loves it!
We have used some other objects for sorting too, like these poof balls.
Kiddo loves her hot beverages, like coffee and tea...

Emma's vocabulary has also expanded to include the names of many of her little friends. Although some of them don't sound exactly right...Kellen is 'Tay'!
Mom's favorite:
Emma loves to help with Will! She is so good with him, usually fairly gentle, and always wanting to hold him and kiss him.