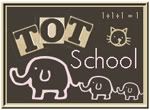 Emma is 17 months old. We had a really fun week with our different "tot school" activities. It seems like new skills often come all at once! Check out Tot School at 1+1+1=1.
Emma enjoyed playing with her new poof balls in different containers throughout the week. I give her various scoops and little bowls to move the balls back and forth between. She has to keep the balls on the blanket (much like our bead activity). This makes clean up easier and helps me see when she's getting bored (because the balls start to end up way off the blanket). I think the structure of having to play in a specific place has really helped her, and she knows when I put out a blanket on the floor to come and sit down for something fun to play with!
We've been doing a lot with fine motor skills, especially trying to teach her some more practical things. After she got bored of the balls, she was still interested in playing with the Ziplock container. She learned how to get the lid on by herself, and with only a little bit of instruction, how to get the lid off by looking for the corner with the large tab!
She concentrated very hard on this!

We also did several things with pipe cleaners. She enjoyed putting them in different vases, which required her to put them in vertically. She also put them in the small cubbies in our table, which required her to place them horizontally.
Emma loves to help with the garden outside. Usually I give her the watering can, but this day she was all about the hose. I locked the water on and she watered for me!
This girl loves to paint the sidewalk! I mix up paint with equal parts cornstarch and water, and add a little food coloring. We use a foam paintbrush for her to paint with (thanks to Tisha for the great idea!) and she goes to town.
She is also totally obsessed with shoes. Lately, she's been asking to put on shoes when we're just hanging out around the house. Gotta love this outfit.
She also loves to play with my Crocs, and since they are slip-ons, she can get mine on her feet by herself. She has learned to walk in them also! Yesterday she walked through the whole downstairs in them, even doing a 180 degree turn. She lost her balance and fell several times, but her determination was so great that she never even got frustrated by falling.
Her love for shoes has also helped her to learn matching it seems. She was playing with one of my shoes and I told her to go find the other one that matched it. She was able to find the matching shoe in just seconds, out of a pile of many other shoes!
Mom's Favorite: Hard to choose between my sweet little girl looking so grow up or her loving on her little buddy!