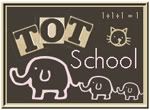 Emma is 17 months old. Read more about Tot School at
1+1+1=1
.
One of the goals of many of our Tot School activities over the past few weeks has been to get Emma better prepared to feed herself using a fork and spoon. She is still struggling with the scooping concept, but stabbing is coming along nicely! She fed herself several different things this week with a fork, including scrambled eggs twice!
Both Martin and I are not big fans of long-term sippy cup use. We first started having Emma try to drink a sip from our cups when she was just a year or so. Lately, she has been able to drink from a cup by herself (with a lot of supervision though!). She only gets a little bit of water in her cup, and we found that the taller cup works better than something shorter because she does not always remember to get the cup in her mouth before she starts tipping it!

We are still working on animal noises using her Melissa & Doug puzzles. Cow and sheep are the focuses still. This week Emma enjoyed pointing at the animals and waiting for me to tell her the sound they make - I think this is progress! I also worked on her asking for help to get a piece in all the way instead of getting upset, and she did much better.

She also enjoyed playing puzzles with her feet!
Books are always a favorite for Emma, but I have a few new goals for her. One is working on her reading independantly while sitting next to me. I actually read in my own book while she read hers!
In the same vein of trying to help her lengthen her attention span, we've been introducing books on tape/cd. I get these from the library, and most of them are way more advanced because they have so many words. I think this will become a favorite before too long, though!
Our big activity for the week was fingerpainting! I made homemade finger paints (see
Thrifty Living for the recipe and instructions
). Emma usually gets very upset when her fingers are messy, so I knew it would be an uphill battle. I made her stick her hand in the paint initially and she was not happy!