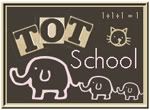 This is a bit of a catch-up Tot School post, encompassing the last 2 weeks.
Painting is a huge favorite still. In this picture, Emma is twisting the brush on the page. I dip the brush in the paint for her and often twist it to get it fully coated with paint. She's picked up the technique!
Emma is really enjoying stacking bristle blocks (as well as lego style blocks). She has gotten really good at sitting and building for longer periods of time.
The
School Bus
is also a current favorite. She puts all manner of toys inside and then pushes it around the room making car noises. She's also great at opening and closing the doors of the school bus, and trying to get her chosen items out through the doors. This doesn't work so great with many of the things that often end up in the bus!
Emma is still our little music lover. I'd really like to take some of the credit, since I played the drums at church until I was 8 months+ pregnant with her....We went to see the Baltimore Symphony Orchestra play for the 4th of July and Emma was beside herself with joy the entire concert. She clapped (often in time/rhythm) to the music and danced and squealed.
When she couldn't hold it in any longer those hands just went up in the air!
Being pregnant during this crazy hot summer has made many of our tot school activities center around staying cool
in the pool...
finding new books... (
Railroad Toad
,
Bob and Otto
,
The Eye Book
)
and puzzles at the library...


Emma has come out with several new words lately, the most exciting of which are more (which she has signed since about 8 months) and MAMA!! :-)
Emma has gotten to have some sweet Daddy time lately too...
Reading books together on the floor,