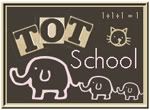 Emma is 16 months old. Read more about Tot School at 1+1+1=1!
Here's a look at what we did last week:

I watch our friends' son a few days a week, and Emma loves "helping" with him and getting in some practice for when her little brother or sister comes in a few months. She loves to give him hugs and is learning to play with him.


She entertained him with a rattle, and worked on putting the rattle in his hand when he dropped it.
Emma has really begun to notice different things outside, like planes and helicopters, as well as the dump trucks in our neighborhood. When we are out in the car I point out school buses to her and she says "bu". She has really enjoyed playing with her Playskool School Bus. She makes a "brrrrrr" motor sound, and will push the bus back and forth with me. We also look for buses out the back windows of our house in the mornings.
We have been working on a few animal sounds this week, specifically for cow and sheep. Emma enjoys her farm animal Melissa & Doug puzzle, and we work on the cow and the sheep while she puts the puzzle together. I also found an ipod app of baby flash cards that has a cow and a sheep, so we use those pictures as well.
Emma already loves music so much, but has had little exposure to dancing, so several days this week we watched the Barn Dance from Seven Brides for Seven Brothers (one of my favorite musicals). Emma loved to clap along to parts:


She also tried her hand at a little bit of square dancing. This was the first time that she has ever tried to dance with her feet (usually she just does a little head bop to the music). During the worship music at church Sunday, Emma had her foot stomp going too!