Emma is 32.5 months
Will is 11.5 months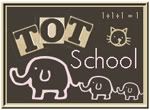 We've been enjoying a lot of fall activities over the last two weeks. Unfortunately, I lost several pictures when our computer died, but I'm hoping that will be only temporary once we get them off the hard drive.
We have several fall books from the library that we've been reading every day. We really like
It's Fall
. It has beautiful pictures and is a great introduction to the change of seasons.
Footballs and Falling Leaves
is a counting book with great fall themed items. We also liked the simple book,
I know its autumn
.
To talk about the different things that happen when the seasons change, we took a nature walk. I put a piece of clear tape on Emma's wrist with the sticky side up and she picked up different things to stick to the tape along the way. She loved finding leaves, flowers, and sticks to put on her tape, and I loved seeing what caught her attention. This was a lot of fun and I'm sure we'll do it again soon.
We found a caterpillar one day and kept it in a tub with some leaves for a day or two. Emma thought the caterpillar was the coolest thing. She is totally unfazed by bugs and loves to poke at them and pick them up.
We didn't keep the caterpillar for too long, and Emma loved getting to put him back outside.
I found this great tree printable from
First School
. We scrunched up different colors of tissue paper to make leaves for the tree.

I don't have a picture of the finished product, but we put a bunch of "leaves" on the ground under the tree also. It turned out really cute and is hanging in our art gallery.
Another great printable from First School is this
acorn sheet
. We keep it inside a plastic page protector and Emma uses a dry erase marker to do a number of activities. Counting by dotting the acorns, circling, coloring, and then practicing writing numbers. She did all of these numbers on her own!
I'm so excited to see Emma wanting to trace and actually doing it. She is so pleased with herself and did a great job. I'm hoping to do some more tracing with letters in the coming weeks!
Tiny Tot School
Will has really enjoyed our sensory bin, especially the leaves. He likes the texture of the leaves and really likes to put them in and out of different containers. I don't seem to have a picture of this yet.
He also added to his signs with "all done". This one is not a favorite sign since he loves to eat so much, but this is a really cute photo!
He is showing a lot of interest in our wooden puzzles even though he can't actually do the pieces yet. He has the concept, though, and likes to put the pieces on the puzzle boards.
We had a fun time with Daddy this weekend. We went to an area of Middletown that has big trees and hills and collected leaves, acorns, twigs, and flowers.
Emma loved talking about the different things we saw and both Emma and Will enjoyed having time outside and spending time with Daddy.
That afternoon we also took a hay ride at a local farm and enjoyed some other fall activities, including apple cider!