Emma is 25.5 months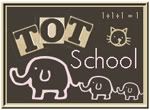 The last two weeks have been filled with potty training! Except for sleeping and travel, Emma has been out of diapers full time, and she is doing a great job! She still goes in her underwear from time to time, but probably less than once a day at this point. The big breakthrough this week was #2 in the potty, though that did lead to our first BIG mess (on Sunday morning before church no less!!) -- yuck!
Our other ongoing Tot School activities include:
practicing letters out loud (she can recognize all but 4 letters)
practicing numbers out loud (she counts to 11 or 12 on her own, sometimes skipping 6)
Catechism (working on What is the chief end of man? When asked Are there more Gods than one? she can answer "no, there is one true God")
Memorizing Proverbs 3:5
Potty training!!
Emma loves being a big sister! She does a great job helping with Will and is so sweet and attentive to him. She is super excited to share her high chair with him and watch him eat off a spoon!

Emma has been enjoying art with shaving cream! We use it with a brush and as finger paint. She loved using the brush...
but was not sure about the mess on her hands at first.
She warmed up to it, though, and has asked to do more shaving cream painting! (we use Barbasol...lots of foam and only $1 for a can at the Dollar Tree)
drew a "hat" on in the bathtub,
as well as "ovals" in the tub.
She also enjoys going to the grocery store, both for real and with her pretend shopping cart.
She sets up a "store" and then goes and puts the food in her cart!
We are thankful for warmer weather, so hopefully we'll get to take Tot School outside a bit more over the next few weeks!